Date Published:May. 10. 2020 Date Updated:Oct. 23. 2023
Solving common issues with Food Machinery(Food Packaging Machine)
Introducing the safety and hygiene countermeasures essential for food packaging machinery design.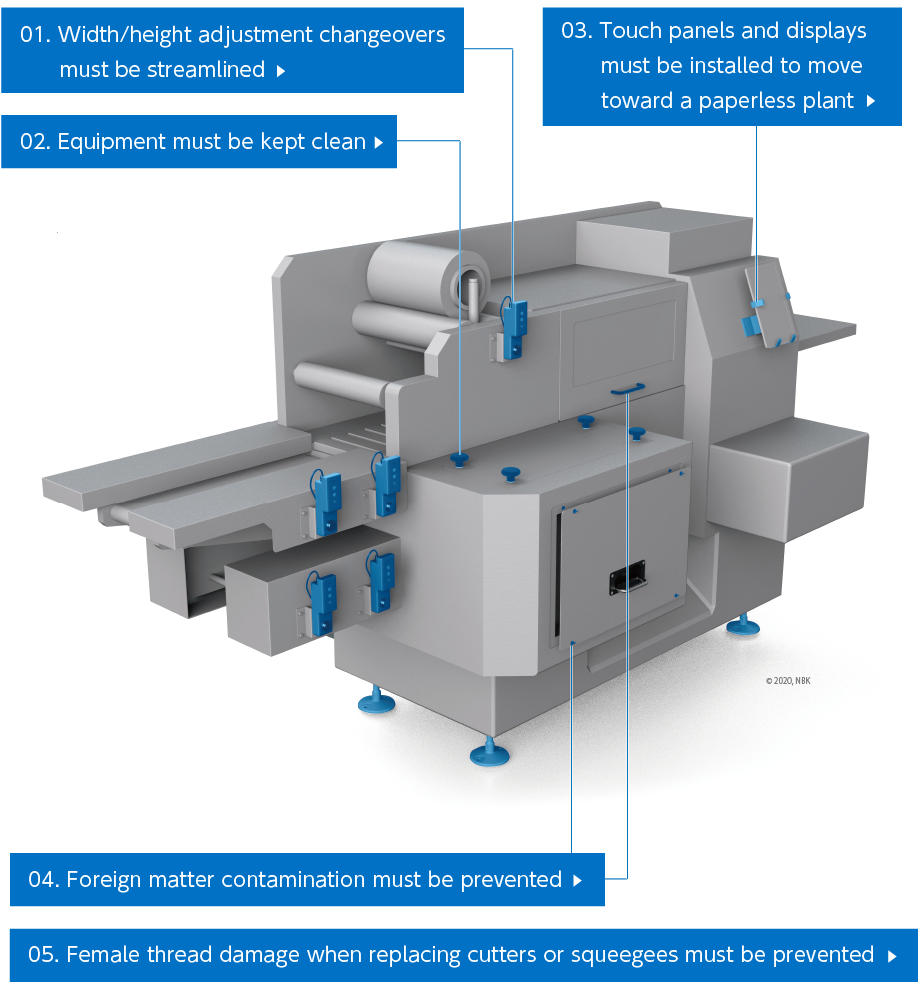 01.Width/height adjustment changeovers must be streamlined
Automate manual operation to cut down on labor
Instead of operating handles one by one in multiple locations, our equipment enables automatic positioning. Up to 32 units can be batch operated wirelessly.
Wireless Positioning Units EPU
02.Equipment must be kept clean
Parts which help prevent the accumulation of dust and dirt
With an even surface, they are easy to clean.
Stainless Steel Hand Knobs KMDFS
Rust-resistant parts usable even for drive components
All-stainless steel couplings are available.
Slit Couplings
Made of SUS303 : MSTS Made of SUS316L : XSTS-C
03.Touch panels and displays must be installed to move toward a paperless plant
Sturdy display mounting systems are available for onsite use
Display mounting systems with freely adjustable angles, mountable on walls, aluminum frames, or round pipes, should be used.
Display Device Mounting Systems Mounting Systems for Display
04.Foreign matter contamination must be prevented
Safety comes first for food production. Fall-off and loss of parts should be prevented. HACCP and CE Marking compliant products are also available.
Keep loosened nuts from falling off
With relief cutting in the handle threading, the nuts on these handles won't fall off even if they come loose.
Keep screws from falling into equipment or materials
Screws with structures like this will not fall out of the panel even when removed, because the relief cutting in the threads catches on the screw hole.
Washers prevent screw fallout
The washers can simply be assembled to commercially available screws to achieve fallout prevention countermeasures. After assembly, they will be unlikely to fall off the screws.
05.Female thread damage when replacing cutters or squeegees must be prevented
Reinforce female threads to prevent damage
Integrated stainless steel with high strength makes them effective in areas where bolts are frequently inserted and removed.
Keyed Female-Thread Reinforcing Inserts SHINS
Issue/case studies
Improved productivity/workability
Safety measures/precautionary measures
Heat resistance/corrosion resistance
Elegant functionality/design
Cleanroom/vacuum/non-magnetic
Food Machinery
Solution samples
Couplings
Special Screws
Machine Elements