Specs/CAD
Part Number
Moment of
Inertia
(kg・m2)*1Moment of
Inertia
(oz. in.2)*1
Mass
(g) *1Mass
(oz) *1
MDR-41
4.8×10

-6

0.262

23

0.81
MDR-52
1.39×10

-5

0.76

46

1.62
MDR-57
2.7×10

-5

1.476

70

2.47
*1: These are values with max. bore diameter.
●All products are provided with hex socket set screws.
● Recommended tolerance for shaft diameters is h6 and h7.
Material/Finish
MDR
Hub
C3604
Disk
NBR
Rim
SPCC
Hex Socket Set Screw
SCM435
Ferrosoferric Oxide Film (Black)
Structure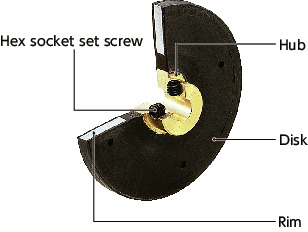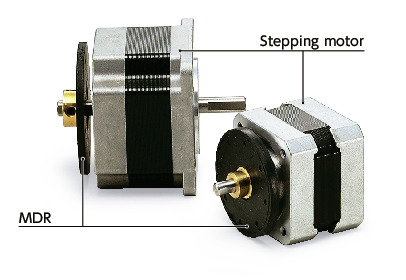 Characteristics
This reduces the vibration in the resonance area of a stepping motor.
This supports the follow - up to pulse speed of a stepping motor in high speed zone to improve the max. rotational frequency.
Allowable operating temperature: - 10°C to 40°C
Bore - completed products. Special processing is not required.
Selection
From the moment of inertia of the rotor of the stepping motor to use, select the applicable part number of
MDR
according to the following table.
Part Number
Moment of Inertia of Stepping Motor's Rotor
MDR-41
5×10

-6

kg・m

2

or Less
MDR-52
1.5×10

-5

kg・m

2

or Less
MDR-57
2.5×10

-5

kg・m

2

or Less