Specs/CAD
*1: Mounting bolts are not supplied.
Structure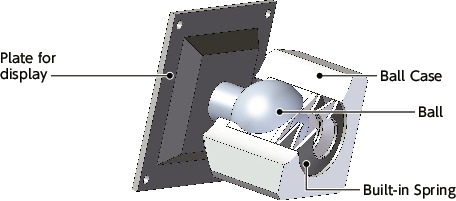 Material/Finish
DFT-AF
DFT-AA/DFT-PB
Plate for display
SPHC
Cation Painting
Ball Case
A6063
Alumite Treatment
Ball
S45C
Trivalent Chromate Treatment
Built-in Spring
Spring Steel
Fixing Plate
SS400
Electrostatic Coating
-
Bracket
-
A6063
Anodized
Characteristics
The display can be tilted by ±15° to any direction. The display can also be rotated.
The built-in spring serves to retain the display. Tightening after adjustment is not necessary.
For counterpart, three types of Mounting System for Display are available.
For aluminum frame / For wall panel and sheet metal ----DFT-

AF


For aluminum frame end mounting ----DFT-

AA


For round pipe ----DFT-

PB
Application
Machine tool / Medical equipment / FPD production device / Semiconductor manufacturing device / Packing machine / Food machinery

Retention torque
Product code
Retention Torque
Reference Force
DFT

H

20 N・m
Even in an environment subject to vibration, etc., the display
can hardly deviate.
DFT

M

15 N・m
Middle of low torque type and high torque type.
DFT

L

10 N・m
Can move with torque equivalent to that
for household / office PC displays.